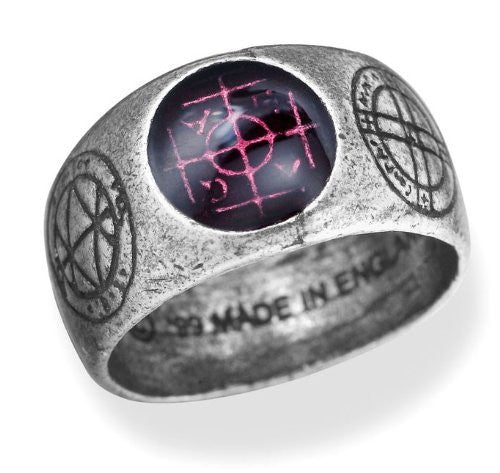 Agla Alchemy Gothic Pewter Talisman Ring
$ 27.95

FREE US shipping, international shipping available. Lifetime warranty.
Temporarily OUT OF STOCK of size 7
Agla Alchemy Gothic Pewter Talisman Ring. Five magical talismans of protection and profit, from Alchemy Gothic. The central Kabbalistic sigil is 'Agla', which stands for 'Thou art mighty forever, O Lord.' The remaining for seals are for love, memory, safety, and peace. An elegant and meaningful pewter ring. Approximately 1/2" wide.

Customer Testimonials:
"I just received my Agla Ring today. It was a very nice surprise anniversary gift from my wife. The ring looks FANTASTIC and it's of great quality material! I can't wait for my next purchase, believe me, there will be plenty more. Thank You Very Much" - Ryan P., Palmyra NJ

"I ordered the Agla ring as a Christmas gift for my boyfriend, and it looks amazing! The quality is perfect, and he totally loves it! From now on, I'm going to rely on dragonweave for all of my jewlery needs! Thanks SO much!" - Mika J., Newnan GA

"The ring arrived today and I am very pleased. Thank you!" - Tom M., Durant OK

"Thank you so much for the ring! I gave it to my boyfriend for Christmas and he absolutely loved it!! Thanks again!" - Natalie G., Sheboygan WI

"Hi, I just wanted to say I absolutely love this ring. It is just amazing and it fits like a glove. I will definitely be ordering from you more in the future. Thank you so much" - Adam T., Maple Park IL

"I have used your site to purchase my boyfriend rings and he just loves them. You're speed and low prices are amazing!!" - Catherine G., Davenport IA
authentic Alchemy Gothic ring
lead-free fine English pewter and enamel
wildly popular protective gothic ring
Agla Alchemy Gothic Pewter Talisman Ring
Love it, fair amount of compliments.
Love my ring!
The ring surpassed my expectations. Well made, fits perfectly and bc of the quality, I'll be buying more jewelry from you guys!
Its exactly what I wanted
Thanks it's what I thought it would be nice form.