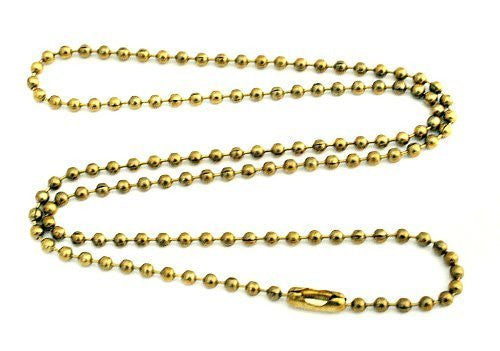 2mm Yellow Gold Brass Ball Chain Necklace
$ 11.95

FREE US shipping, international shipping available. Lifetime warranty.
Brass 2mm ball chain necklace, yellow gold tone. The color is darker and more subdued than bright-yellow gold plate. Ball chain is the same as what's used for key chains, a distinctive and flexible chain that's easy to wear. This chain size is great for wearing with charms. Comes with two-sided ball chain connector, made in the USA. Available in a large variety of necklace lengths, from choker to extra long.
unisex brass ball chain necklace
full range of necklace lengths available
affordable and easy to wear
Yellow Gold Brass Ball Chain
Perfect brass ball chain to complete my wire wrapped crystal. Matches the brass wire I used perfect.