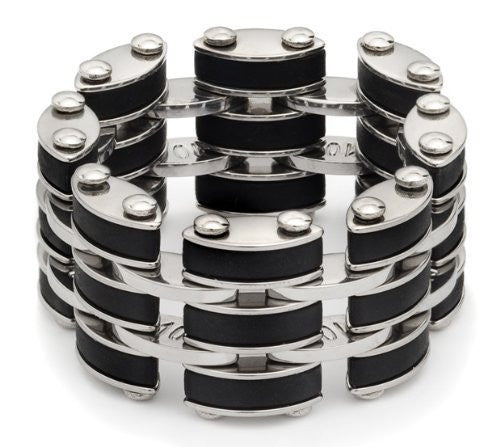 Black Link Steel Mens Fashion Ring
$ 19.95

FREE US shipping, international shipping available. Lifetime warranty.
This innovative ring is made of wide, flexible links of stainless steel and hardened black rubber, with riveted ends on each link. Modern and industrial style! Band is 12mm (approx. 1/2") wide. Size 11 and 12 only.

Customer Testimonial:
"My ring arrived yesterday. Actually it was a Valentine's Day gift for my boyfriend. He saw it on the website and loved it. I couldn't wait for Valentine's Day to give it to him, so I gave it to him as soon as it arrived. It is exactly as it looked on the website. The flexible steel and hardeded rubber ring. He said "I've never seen anything like this, I love it!" I want to say also, I've never received anything I have ordered over the internet that was so carefully wrapped and well presented, very classy! We will definitely be shopping with you again." - Lisa W., Brunswick ME

"Just wanted to say thank you for the assistance earlier. It's great to know that you actually care about your customers. I just received my Black Link Steel Ring today and I absolutely love it!!! It looks better in person and is very comfortable. Expect me to order again soon, I have my sights set on a few other things on your site. I love the selection of items in your shop. Thanks again, take care." - Travis S., New Kensington PA
stainless steel is durable and scratch resistant
best selling mens flexible ring
size 11
Great, stylish ring
My favorite style of ring! I always get compliments on it. Bought some extra in case they sell out.
great!!
love the ring getttts lottttts of compliments