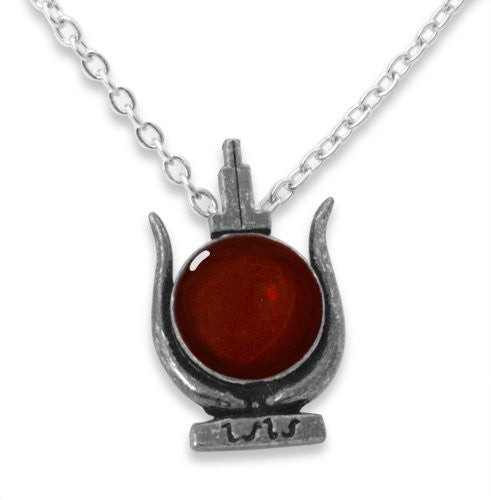 Cult of Isis/Aset Alchemy Gothic Egyptian Necklace
$ 50.00 $ 24.95

FREE US shipping, international shipping available. Lifetime warranty.
Cult of Isis/Aset Alchemy Gothic Egyptian Necklace. Translucent red enamelled solar disk, horned and throned, of the great Egyptian and universal Goddess Isis. Her name is delicately carved into the base of this 1 1/4" long pendant, from Alchemy Gothic. Comes with 18" curb chain.

Customer Testimonials:
"I just received my Cult of Isis pendant today and I love it! It is a beautiful piece of work, well crafted, and I love the antiqued look of the metal. You can definitely expect me as a returning customer. Thanks a lot." - Heather H., Fort Worth TX

"My Cult of Isis just arrived! Thanks so much; it's gorgeous. I am so pleased to have found a site like Dragonweave, not obsessed with darkness; just wanting to sell fabulous jewellery. I had made prior arrangements to buy it elsewhere but when I stumbled upon your site, I cancelled them and bought yours instead. The 'vibe' of a site is very important to me, you know? I'm not into blood, guts and gore and black lipstick. This piece of jewellery will help broadcast my love for the Goddess. Thanks so much!" - Shelly K., Canada "Hi: just wanted to let you know the Cult of Isis pendant arrived yesterday...it's lovely! Thanks so much!!" - Cathy K., Erie PA
authentic Alchemy Gothic design
lead-free fine English pewter
includes 18" curb chain
Mother queen Isis's necklace
Necklace is OK and look good he just needs to be bigger than larger in a little bit bigger than that small size other than that it was a great job you need to make it bigger
Perfect!
My second purchase of this item. I am proud to wear my Goddess. It is such a beautiful necklace! Excellent service, of course.
Beautiful Ausetian amulet
This has been my go to Ausetian amulet for years, I really love the artistry of this necklace, if you truly want to have a nice piece honoring the Goddess of magic and ten thousand names. This is is, simple, classic, sturdy, stunning and powerful.
very pleased
Beautiful piece, I haven't taken it off since it came in. Also it showed up early.
Beautiful quality
High quality charm and chain