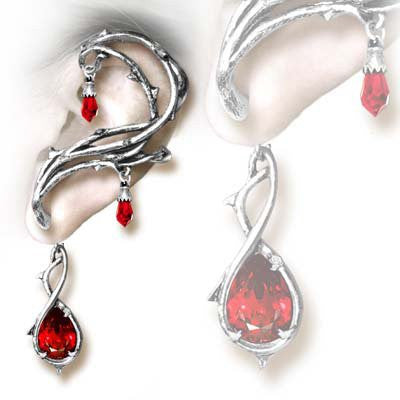 Passion Ear Wrap Red Crystal Earring by Alchemy Gothic
$ 70.00 $ 38.95

FREE US shipping, international shipping available. Lifetime warranty.
Passion Ear Wrap Red Crystal Earring by Alchemy Gothic. A bramble of thorns entangles the ear, weeping tears of Swarovski crystal blood. This fascinating design hugs the upper ear and snakes around to the pierced earring stud at the bottom. Two red Swarovski crystal drops hang from upper portions of the earring, and a larger 14mm pewter-backed crystal dangles from the bottom. Earring is SOLD SINGLY, wearable on LEFT EAR ONLY. 4" long, made by Alchemy Gothic.
authentic Alchemy Gothic design
made of fine pewter, nickel and lead free
genuine Swarovski crystals
Absolutely LOVE IT
It's so elegant, and I love the design!