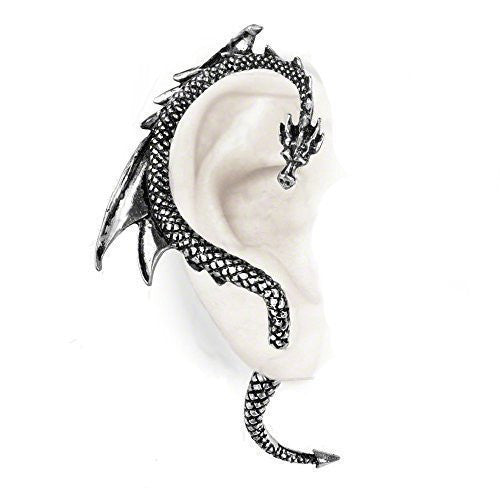 The Dragon's Lure Ear Wrap Earring by Alchemy Gothic
$ 31.95

FREE US shipping, international shipping available. Lifetime warranty.
The Dragon's Lure Ear Wrap Earring by Alchemy Gothic. Like a whispering shoulder devil or a witch's familiar, this dragon, piercing through the ear lobe, tempts the wearer into acts of shameful depravity. Or whispers sweet nothings? You'll have to try it to find out. This fantastically popular dragon earring is an original design by Alchemy Gothic, made from lead-free fine English pewter. Approximately 3" long and 4mm wide, requires only a standard ear piercing to wear. Earring is sold singly. Choose left or right ear.
authentic Alchemy Gothic dragon earring design
single earring that wraps around ear
highly detailed dragon design
made of lead-free fine English pewter
Dragon's Lure Ear Wrap
It actually fits on my ear and whispers sweet nothings to me ;) It is exactly as pictured and adjustable if needed. I am very pleased!
great
it's a little big, so i'm unable to wear it but the details were great and its crafted beautifully
Little awkward staying positioned
A little awkward to stay positioned on the ear. Maybe it needs a leg positioned behind the ear and maybe one in front(?)
Dragon ear
I love it it looks so cool lots of comments
Dragon Ear Wrap
I am pretty happy with this piece of jewelry.
I do have small ears, so the only thing I can say negatively, is that it is heavier than I would prefer, but love wearing it anyway.
It came in a timely manner and love it's look.